The normal state of Vitamin c serum has no side effects. However, when it gets in contact with external factors (exposure to oxygen), it's most likely to develop side effects when used on the skin.
Oxidation can cause vitamin c serum to develop side effects on the skin. Oxidation occurs when the vitamin c serum breaks down when exposed to oxygen. 
How Oxidation causes Vitamin C Serum to develop side effects
Oxidation is a destructive process of vitamin c serum. And when you apply a vitamin C serum on your skin, it will cause skin damage. 
When vitamin C acts as a pro-oxidant, the consequences include irritation, inflammation, collagen and elastin breakdown, and acne.
If you are experiencing any of these skin ailments and using a vitamin C serum, it's time to rebuild your skincare regimen.
Vitamin C serum can become a pro-oxidant when exposed to atmospheric oxygen; however, the risk of applying a Vitamin C serum during the daytime can not be over-emphasized.
Vitamin C can also become a pro-oxidant when in contact with metal. 
4 Major side effects of vitamin C serum
Though, people with hypersensitive skin may experience side effects when using vitamin C serum. Some of the most common side effects include;
1. Irritation Side Effects
One of the most common side effects of using a Vitamin C serum is irritation, which may lead to redness.
It's mainly experienced by people with dry, hypersensitive skin and acne-prone skin.
Suppose you have dry, acne-prone, or sensitive skin. In that case, it is better to skip the Vitamin C serum (L-Ascorbic acid) products and choose Magnesium Ascorbyl Phosphate product as the base or use a vitamin c serum of low ph level. 
They are much gentler for those with dry, acne-prone, or sensitive skin. Another cause of irritation can be as a result of using it with other active ingredients at the same time. 
Don't mix vitamin C with retinol, Salicylic, lactic and glycolic acid, niacinamide, etc., when using a Vitamin C serum. Combining these ingredients will result in irritation. One needs to be cautious when using these high active skincare products.
2. Flaky Skin
The excessive use of the Vitamin C serum may result in flaking skin. One of the side effects of vitamin c serum is that the skin exfoliates itself. 
Due to this, you might get flaky skin when constantly use on the skin. Though, Flaky skin is not entirely wrong, as it only exfoliates dead skin in most cases. 
When the skin is peeling, don't peel with your fingers as it can lead to pulling off live skin and then causing bleeding, even scarring in the process. 
Just allow it to peel. After a while, the flaky skin peeling will stop occurring once your skin gets adjusted to the Vitamin C serum. Still, it is better to use a moisturizer after using the serum. This will help in keeping the flaky skin at its origin.
3. Sun Damage,
Sun damage may occur due to using it during the daytime, which is one of the most common side effects of vitamin c serum. 
The vitamin c serum will protect you from harmful UV, but at the same time, it can cause sun damage. Yes, it sounds contradictory, but it all depends on your application time. 
But this occurs if you don't use sun protection in the daytime. You must use a sunscreen of at least SPF 50 while using a Vitamin C serum due to the harsh weather. 
If you can't follow this rule, then you should apply the Vitamin C serum at night. If you want to improve your overall skin with the Vitamin C serum, you must combine sunscreen.
4. Skin Breakout
Many people may experience breakouts from using a Vitamin C serum, which can be challenging. 
It's often experienced by people with acne-prone skin, which also depends on their application method. Breakouts are another common Vitamin C serum side effect.
The breakouts can happen due to the base of the Vitamin C serum. Some Vitamin C serums contain ingredients such as Ferulic acid to keep the Vitamin C stable for a longer period, which can cause problems for acne-prone and sensitive skin.
To avoid getting breakouts from Vitamin C serums, make sure to read out the ingredients list and the application instructions thoroughly. 
Reading other people's comments on a particular skincare product before purchasing it can be beneficial as well. And most importantly, start slowly if you are using it for the first time.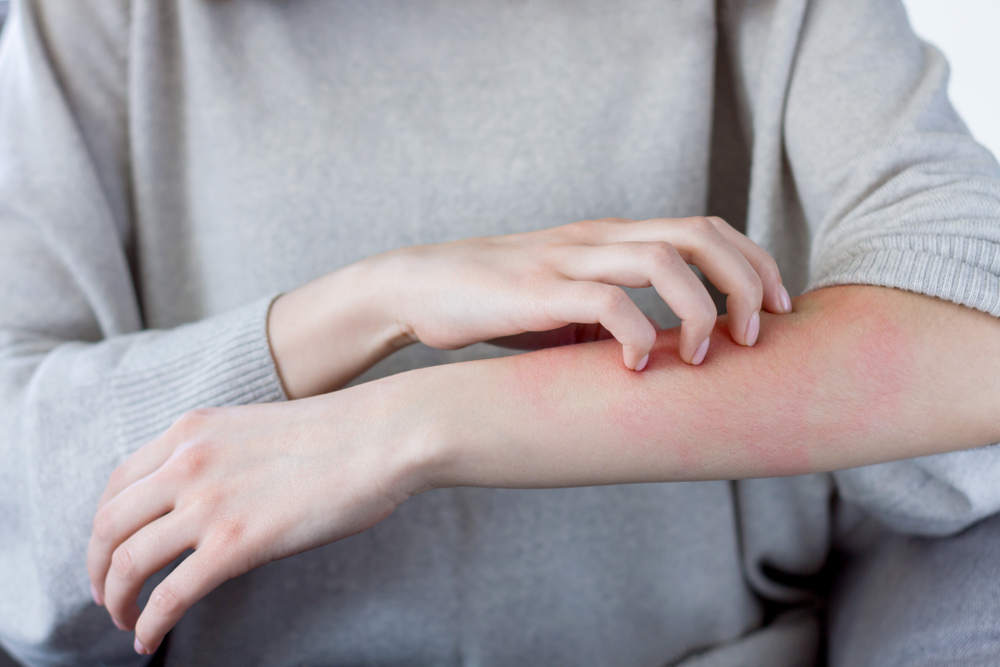 Can vitamin C burn skin?
The use of an Oxidized Vitamin C serum can burn the skin and increase the formation of free radicals. 
These may result in irritation, harm, and aggravate the skin, causing allergic reactions, rashes, and burns. 
Some newer facial products containing Vitamin C serum derivatives are effective with lower concentration levels.
Is it okay to use vitamin c serum every day?
Vitamin C serum is typically applied once or twice per day. It is best to recommend you use it once daily (Night). 
A suitable application method is to exfoliate, cleanse, tone the skin, apply vitamin C serum, and then add SPF moisturize. 
It can be safely used in conjunction with other active ingredients, although it may not be used alongside niacinamide, retinol, etc., which may render vitamin C less effective.
Conclusion
Be very cautious not to take the side effects of Vitamin C serum lightly. Avoid using it during harsh weather and combining it with the wrong ingredient to prevent overactive reactions.
Increased irritation is a sign that the skin barrier is disrupted. Therefore stop using the product in case of severe irritation.
And one needs to know how to use Vitamin C serum to get those benefits. Using it without considering one's skin condition and other things mentioned earlier can cause more damage than good.
Welcome to Lux Skin Beauty, we are passionate about beauty, and we love to make our customers prettier with our body and skincare products. We offer one of the most loving products for your daily care.
Our Lux Skin Beauty products are very affordable, trending, and lovely. If you're looking for a passionate beauty gift set for a friend or loved ones, we can help. | Shop SkinCare | Skincare Blog | Contact us | Reviews |