The pubic region is one of the most sensitive areas of the body. So, shaving down there can be quite challenging as any mistake can make you cut yourself. However, you may not be able to avoid shaving down there as the benefits of shaving the pubic area in women cannot be overemphasized.
How to Shave Down There without Getting Cut
If you are ready for shaving down there without getting cut, here are some proven tips you must follow:

Get a good shaving razor
Most girls shave down there with razors, so you need to get a razor as you are planning to shave. But you must ensure that the razor is good and sharp for the most reliable effect.
If the razor is good, you are likely going to get a bump-free shave around your pubic area. Also, a good shaving razor offers you a better and closer shave without exposing you to the risk of hurting yourself or being irritated.
Notably, you can go for a single-blade stainless steel razor or just choose a disposable shaving razor.
As long as the razor is in good condition, you cannot have any issue with shaving your pubic area.
Nonetheless, you don't have to stick to a shaving razor because there are various alternatives. One of the best alternatives you have is Rechargeable Women Shaver. 
It is an easy-to-use and affordable tool for shaving different parts of your body including your pubic region.

Clean your razor
If your razor is not new, it is paramount to clean it before you use it. This does not only ensure that you don't hurt yourself, but it also reduces susceptibility to skin irritation.
For proper cleaning of your shaving razor, you are advised to get a grooming kit.  This kit will have rubbing alcohol and other items that will make it easy for you to clean your razor.
Exfoliate the area before shaving
Skin exfoliation plays an essential role in helping you to shave down there without cutting yourself. 
With proper exfoliation, you will get rid of the dead skin and ensure that the razor can shave the hair smoothly and easily.
Avoid using harsh exfoliating ingredients as they can damage your skin during or after shaving down there. A soft exfoliating sponge, washcloth, or loofah can come in handy for removing the dead skin.
Apply shaving cream
Shaving creams are formulated with various ingredients that can help you shave down there without hurting yourself. So, you should apply a large quantity of shaving cream to the part you are about to shave.
In general, there are shaving creams with fragrance and those without fragrance. Unfortunately, those with fragrance often irritate the skin around the pubic region.
So, it is better to choose fragrance-free shaving cream for shaving down there without getting cut.
Shave in the direction of hair growth

There are controversies about the best direction to go when shaving down there without getting cut.
While some people believe in shaving up on your bikini line, others say it is better to shave down on the bikini line.
Well, regardless of your opinion, the shaving direction is very crucial to how you can shave down there without injuring yourself.
If you are prone to irritation and bumps after shaving, you should pay attention to the direction you are shaving your pubic area. It is recommended that you shave in only one direction.
 Basically, you should find the direction of your hair growth and shave towards that direction. Shaving against that direction will likely cause irritation and also make you cut yourself.
 As you are shaving in the direction of your hair growth, you shouldn't apply too much pressure on the part you are shaving. Also, you don't need to shave the same spot multiple times, especially if your razor comes with lots of blades.
Take your time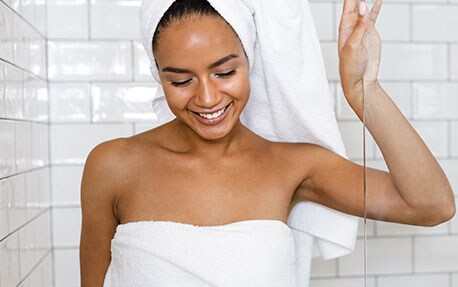 Although most girls shave down there, many of them make mistakes by rushing when shaving. Unluckily, rushing can make you cut yourself badly. So, you must be patient as you are shaving. 
You should not shave when you are rushing somewhere. You should rather schedule shaving down there for a time when you will have enough time to do the job.
Similarly, don't shy when you are distracted as this may make you cut yourself.
Do away with your TV, phone, or any other thing that can distract you. It is advised that you sit on a dry tub edge and be cautious when shaving this sensitive area.
Cleanse the shaved area
Once you are done with shaving down there, you need to rinse the area. This is to get rid of the shaving cream and give you a clear view of the shaved area.
In some cases, you may need to re-shave the hair if some hair strands are still left on your pubic area.
You are advised to use warm water as this will remove the shaving cream easily and quickly. Afterward, gently pat the area dry with a clean and dry towel.
Moisturize the shaved area
Hydrating and moisturizing your skin after shaving can go a long way in ensuring that your skin does not dry too much. This will help you to prevent all sorts of itches or irritation.
In view of this, you are advised to choose an unscented, alcohol-free moisturizer because they don't usually cause any irritation.
Moisturizers with natural ingredients are your best options for shaving down there without cutting yourself.
 Some of the ingredients you can look for in a moisturizer include vitamin E, aloe vera, and jojoba oil. All these ingredients will soothe and hydrate your skin.
Without mincing words, shaving with a razor can be dangerous and, as such, requires you to concentrate on the task you are performing.
If you want to save yourself from the stress involved in shaving with a razor, you can use Homiley Rechargeable Women Shaver. This silky shaver is tested and trusted for shaving to get smooth skin. This product shaves down there like a professional and can be used in the comfort of your home.
Welcome to Lux Skin Beauty, we are passionate about beauty, and we love to make our customers prettier with our body and skincare products. We offer one of the most loving products for your daily care.
Our Lux Skin Beauty products are very affordable, trending, and lovely. If you're looking for a passionate beauty gift set for a friend or loved ones, we can help. | Shop SkinCare | Skincare Blog | Contact us | Reviews |