Is Vitamin c serum good for oily skin? Vitamin c serum is suitable for all skin types, as discussed in my previous article on using vitamin c serum. When you have oily skin, you need to be cautious about the type of product you choose to maintain the skin as you wouldn't want to get the skin irritated and exposed to attracting bacterias(acne-prone, pimples). 
Therefore, it is recommended that you apply vitamin c serum-based moisturizer, as it has essential nutrients to reduce and balance excess sebum (oil )and then keep the skin protected.
 This delicate skin type opposes creams and oils; therefore, serums or serum-infused formulas are perfectly balanced and light-weight, which easily get absorbed by the skin effectively. 
It feels like a splash of water infused with skin-loving ingredients and does not leave any trace of greasiness.
How effective is vitamin C serum in an oily skin
Vitamin C serum is a powerful antioxidant that oily acne-prone skin can benefit from majorly.

It helps treat inflammation associated with acne, treats damaged skin, and brightens skin while improving skin texture and health.

Vitamin C serum is necessary for healthy oily skin, and apart from consuming it in our various food, topical application can produce excellent results. 

This vitamin C serum is also an essential ingredient that eradicates premature signs of aging and maintains the skin's youthful glow.

Vitamin C serum is safe and effective for oily skin and all skin types.

The human body does not produce vitamin C, and although it is found in many foods (kiwi, lychee, red fruits, blackcurrants, etc.), the epidermis only benefits from a very small amount of it. 

Vitamin C serum is a powerful antioxidant that oily and acne-prone skin can benefit from its effective nature. 

It helps treat inflammation associated with acne, treats damaged skin, and brightens skin while improving skin texture and health; Vitamin C serums are the best ingredients for oily skincare. 

Therefore, your oily skincare routine should include vitamin c serum as it would do an amazing job in rejuvenating the skin.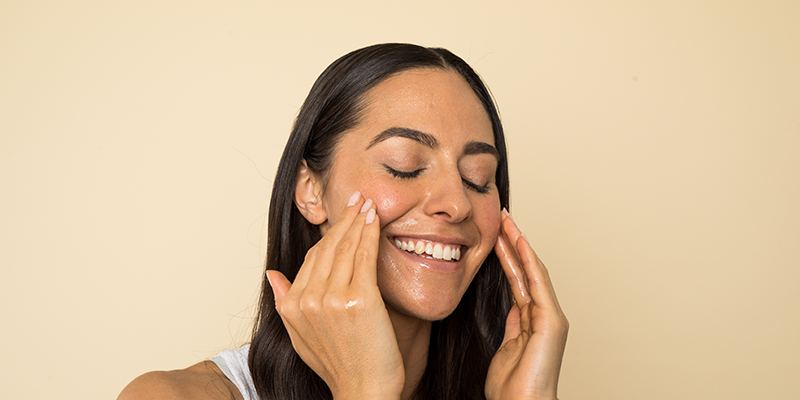 How to apply in oily skin.
When using the vitamin c serum for your oily skin treatment, don't forget to exfoliate the skin at least twice a week to enable the serum to penetrates the skin rapidly.
Wash the skin with lukewarm water and mild soap.

Pat the skin with a neat towel.

Take a slight drop of vitamin c serum on the fingertips.

Apply on the skin and massage gently till the serum is absorbed.

Then apply your moisturizer and proceed to add SPF.
Is vitamin c serum good for oily acne-prone skin?
Vitamin C serum is a powerful antioxidant that is known for eliminating free radical damage to skin cells, premature aging signs and may help treat acne. 
Topical vitamin C products may improve the eradication of hyperpigmentation and reduce acne-induced inflammation. Vitamin C is a water-soluble that protect your skin and other cells from free radical damage. 
Acne is an inflammatory skin condition caused by blocked pores. Though the intake of vitamin C through food may protect the skin 
but may not be rapidly effective till its combine with the serum to reduced acne scarring.
It increases your body's natural collagen production and is still beneficial for overall skin health by healing redness, swelling, and sometimes pimples, which are inflamed bumps on the skin surface.
Homemade vitamin c serum for oily skin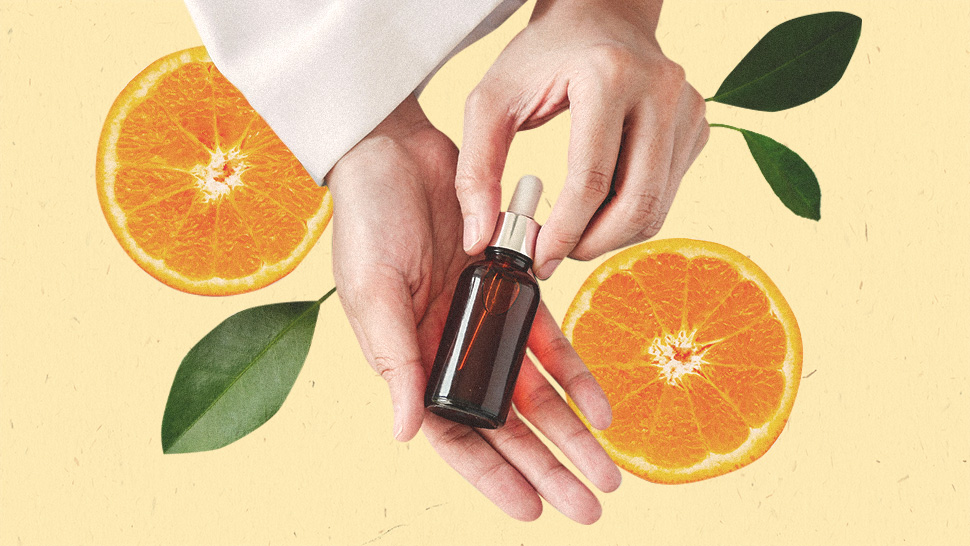 Though there are various ways of making vitamin c serum at home, knowing the right ingredients to use and the appropriate amount is the best step. 
A homemade vitamin C serum is more likely to have an appropriate pH level that would not cause irritations.
 Step1: Pour 1 teaspoon of rose water into a bowl and then add 1/4 teaspoon of the vitamin powder.
 Mix it well to dissolve the powder properly.

 Now add 1 teaspoon of vegetable glycerin to the mixture and whisk it.

Sieve and pour in a small bottle with the use of a funnel.

Refrigerate it for some time before applying it to the skin.
Step2: Take a small bowl, combine the vitamin C powder and filtered water.
 Whisk the ingredients until the vitamin C powder is completely dissolved.

 As soon as it dissolved, stir in the aloe vera gel and vitamin E oil.

Pour the serum into a dark amber bottle or any bottle of your choice using a funnel.

 You can store the serum in the fridge for 1-2 weeks.
Benefits of vitamin c serum for an oily skin
The Vitamin C serum is a powerful ingredient (antioxidant)that oily and acne-prone skin can benefit.
It helps treat inflammation associated with acne, treats damaged skin cells, and brightens skin while improving skin texture and healthy nature.
It erases dark spots, pigmentation and brightening the skin.

Vitamin c serum eradicates the signs of premature aging and the skin a youthful glow.

It protects the skin from free radicals and sun damages.

It works rapidly to reduce and balance the excess sebum present in the skin.

It heals scars caused by acne, heals blemishes and sunburns.

It helps to eliminate the appearance of dark circles.

It boosts skin collagen production.

 It helps in toning and rejuvenating the skin.
Conclusion
In this article, I believe you have learned another way vitamin c serum can benefit your skin, especially for people with oily skin or battling acne-prone skin. 
The richness of vitamin c serum works more in eliminate dead cells and healing wounds. 
Its UV-protectant properties. However, the benefits of adding vitamin c serum to your skincare treatment are amazing as it boosts collagen production, is thereby tied to skin elasticity and firmness. 
When your collagen levels begin to drop, your skin may begin to sag.
Applying a vitamin C serum may boost collagen production, resulting in overall healing. 
Vitamin C serum can facilitate healing blemishes, reduce hyperpigmentation, and give your skin an out-of-this-world glow.
Consistent application of the product is the key to maximum effect, so add it to your oily or acne-prone skincare routine in a way that makes sense for you. 
Some people apply it in the evening to take advantage it works best as a night serum.
A personate writer on skin care beauty