This Cerave skin-renewing retinol serum product should have more of a warning than it has. I washed my skin with a mild cleanser, lukewarm water, and I dried my skin with a neat towel. Then, I applied a tiny amount all over my skin before bed, and something happened.
Something happened in 2 days using this product
.
The next day I washed my face with lukewarm water, and I applied sunscreen SPF30 before stepping out of the house to work. 
Two days later, I get these awful rashes that still haven't gotten better up to a week now. 
Then I decided to apply the product with a mild moisturizer constantly; however, it made the rashes grow worse.
I never knew it was the cause of these rashes. It's really awful and uncomfortable. 
I Tried Something Else: My experience with a new product.
Then I tried the Homy skin Retinol Serum product, and it seems to be getting on well with my skin and eliminating hyperpigmentation while smoothing the wrinkles. 
I think I will stick with the product and the hyaluronic acid moisturizer for my night skincare routine. 
My skin looks healthier and brighter now. However, I prefer the Homy skin retinol serum. 
I say this because I have acne-prone skin, which can be irritated by high potent serums like Cerave skin retinol serum. 
Cerave skin-renewing retinol serum before and after review

I want to share with you how my skin looks after using this product. 
I'm 27 years old, and I have these annoying premature wrinkle signs under my eyes which me my face look weird. 
Though I have been using some anti-aging products, they seem to be less effective, and the wrinkle signs are becoming more visible every day. 
I met an old friend of mine who is a Nurse, and she prescribed retinol Cerave skin-renewing retinol serum or Homy skin retinol serum. She said both products work perfectly.  
I bought the Cerave skin-renewing retinol serum and started using it 2x daily as I did with my previous Serum, which was a big mistake I made. 
My skin freaked out, had a bumpy texture and dryness I was scared, then I stop using the product. 
Then after a month of hesitation, I decided to research the Homy skin retinol serum and discovered that the product contains gentler properties that won't irritate my sensitive skin. 
I decided to try the product, and it actually suits my sensitive skin well. This is the first retinol serum I've used that hasn't caused any skin irritation. 
My skin is smooth and feels more firm. And wish I had tried it earlier, and it is sold at a very affordable price, while I was wasting my money on more expensive products like L'oreal revitalift retinol night serum and CeraVe.
Although, the Cerave skin-renewing retinol serum is also a nice product. But due to its high properties, it may not be suitable for sensitive skin types, and users of this product may typically adapt to it if they are patient and decreased the use of the product to once daily before bed. 
What percentage of retinol is in CeraVe Skin Renewing Serum
The Cerave Renewing Serum contains 0.3% of retinol, making it a more potent form of retinoid (Vitamin A).
Cerave retinol resurfacing Serum vs skin-renewing Serum?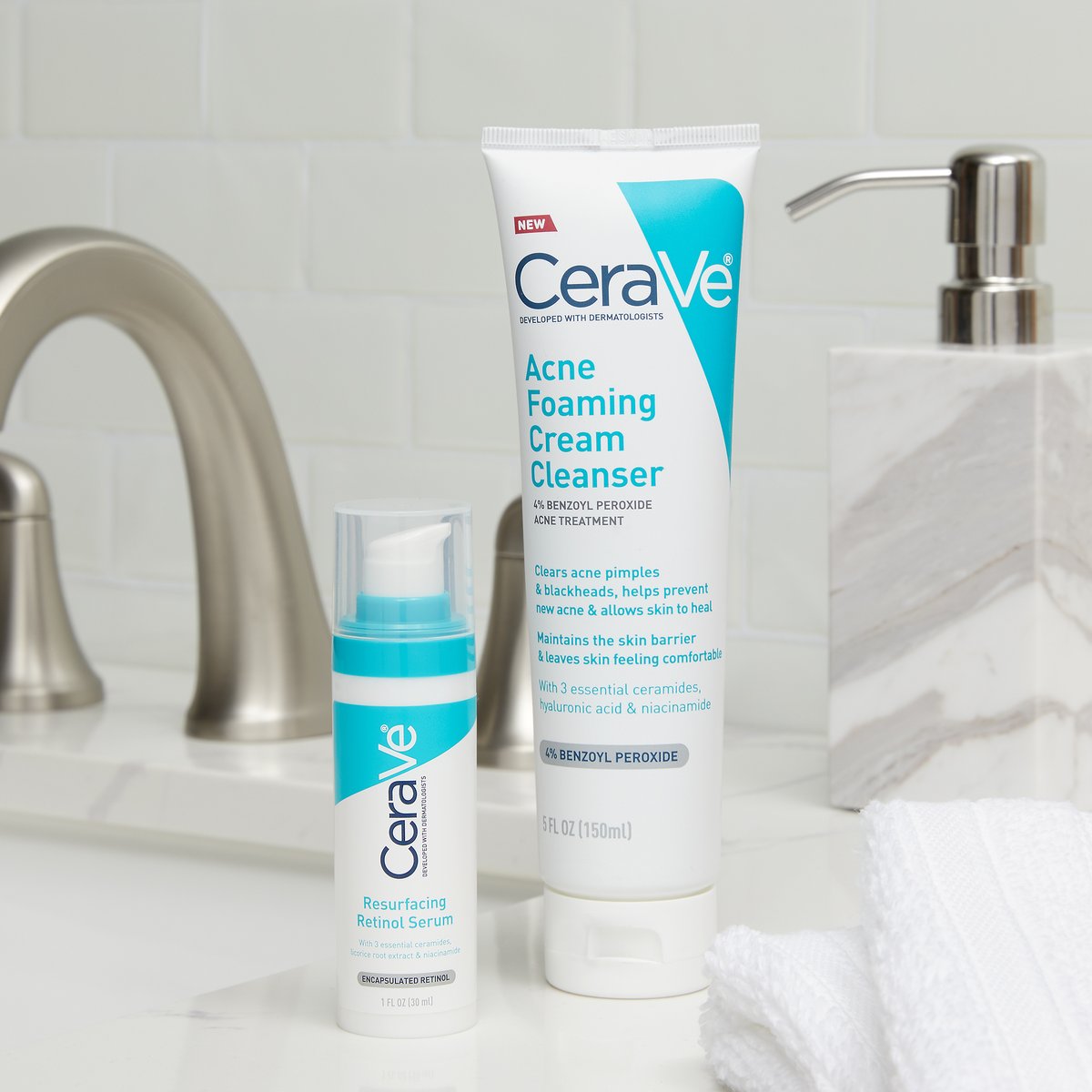 Both products contain retinoids but have different percentages, which made them work differently.
The Resurfacing Serum contains 0.1%, which reduces the size of acne breakout and brightened skin without permanently getting rid of the blemishes. 
While, the Cerave skin Renewing Serum contains 0.3% of retinol, which made it a more potent form of retinoid (Vitamin A), just like the Homy Skin Retinol serum. 
It diminishes wrinkles, the appearance of post-acne marks, clogged pores, restores the protective skin barrier, and improves skin texture and radiance.
Which is the best retinol product?
The CeraVe Retinol Serum is a good product and works perfectly for most people. Though there are other amazing competing brands in the market like  L'oreal revitalift retinol night serum. If you have tender and sensitive skin Homy Skin retinol serum is recommendable. It's gentle on the skin and very effective. 
These products provide you with a variety of anti-aging benefits. 
It is ideal for all skin types, the non-comedogenic (it does not cause acne breakout in sensitive skin) formula.
Do you put moisturizer on after CeraVe skin-renewing retinol serum?
To apply a serum with retinol correctly, follow this guideline:
Apply 2-3 drops of your Serum onto clean skin and gently pat it on the skin till it is absorbed.

You can apply hyaluronic acid moisturizer next.

Apply your SPF to protect skin again harsh environmental damages.
Can I use CeraVe renewing retinol serum every day?
The CeraVe Skin Renewing Retinol Serum cannot be constantly used due to its strong form.
It should be applied once a day (night time) and gently smooth it onto the skin until thoroughly absorbed. And use twice a week to avoid adverse reactions on the skin.  
Finally,
The CeraVe Skin Renewing Retinol Serum is an anti-aging serum with ceramides that improves the look of fine lines, wrinkles, skin texture, and radiance, just like any other original product in the market like the Homy skin retinol serum. 
But the Cerave product can be too strong for skin types like sensitive and acne-prone skin types. 
But in some cases, if you can be patient enough, your skin may likely adapt to the nature of the product. And you may decrease the use of the product to once daily before bed.
Welcome to Lux Skin Beauty, we are passionate about beauty, and we love to make our customers prettier with our body and skincare products. We offer one of the most loving products for your daily care.
Our Lux Skin Beauty products are very affordable, trending, and lovely. If you're looking for a passionate beauty gift set for a friend or loved ones, we can help. | Shop SkinCare | Skincare Blog | Contact us | Reviews |