A drop in temperature and winter knocks on your door. It is the time you must assure of slipping in winter clothes. However, the most important part of creating a winter shopping list is handling the expenses. Often people exceed their budget while updating the wardrobe in a new season.
Hence, it is necessary to create a thrifty checklist that can help you purchase warm clothes. The staples in your winter wardrobe depend upon the activities and adventures you will plan. First, learn about your surroundings and think of buying the basics.
There are plenty of steps that you can consider before preparing the winter shopping list. Read further to find out how you can prepare a frugal one.
Points To Consider For a Winter Shopping List
When you start with wardrobe essentials, shopping gets easier. Before you crash in your favorite outlet, think! Begin by checking your previous stock. There may be items that you keep for this winter. Also, you will find essentials in the closet that you may replace.
New Year is the best time to buy your winter shopping list. It is easy to find seasonal sales of leading brands. Spend everything from free discount codes to seasonal free shipping deals wherever possible. Most of the outdoor fashion retailers give away exciting discounts on their products.
Be aware and make the most of these. You can either shop online or enter into a brick-and-mortar store. Before you start, revamp your winter wardrobe. Make space of the items you will buy. It will cut unnecessary expenses and help you buy only the required clothing pieces.
Now, divide your winter shopping list into categories.
Layer Up
Winter is an ideal time to rely on layers. You can use the different pieces in multiple combinations to keep warm and dry. It helps in adding and subtracting fabrics as you like. Prefer a variety of materials and pair up clothes according to their thickness.
Plus, prepare an outer layer that is protective against wind and water. It transforms into the right choice for fighting against the typical weather outside.
Also, this choice will depend on the activities you will perform. Skiing for instance requires a protective top layer. Remember to wear a heavy coat only if you are not active for the day.
Winters provide you with a myriad of options to keep your hands warm. The mantra behind covering your hands rely on the tasks you will do.
Texting, driving, or carrying items require a different level of protection on the hands. Gloves, in general, are iconic for providing flexibility.
However, experts recommend mittens for keeping hands warmer. A smart approach also includes a pair of gloves and mittens.
You can wear mittens as they cover each of your fingers separately and makes texting easy. Nevertheless, gloves are fingerless and can be worn on top of mittens when you are not texting.
It is necessary to focus on whatever you wear under your shoes. These can create a difference between feeling cold and comfortable.
Try to buy winter footwear that leaves a bit of space when you slip in. It helps thicker socks or tights to fit in the boots or shoes you wear.
Consider wearing leather shoes with cotton socks or tights. It will be less warm and make you feel cold continually. Therefore, try to pick synthetic legwear or socks with almost 80% wool.
It will enhance the blood flow and keep your feet warm.
Medical experts believe you tend to lose heat from different parts of your body.
Therefore, it is necessary to cover each of these for staying warm.
Any part of your body exposed to cold will show effects.
Most often, people cover their heads and upper body to fight against winter.
Nevertheless, if you sit in colder months with goggles and hats on, your nose will still be exposed.
For this reason, make sure to have earmuffs in the wardrobe.
Cover your ears when you go outside. Always hang a scarf because your neck gets cold quickly.
Hats in winter add to the style and comfort together. So, make sure to add these in your winter shopping list.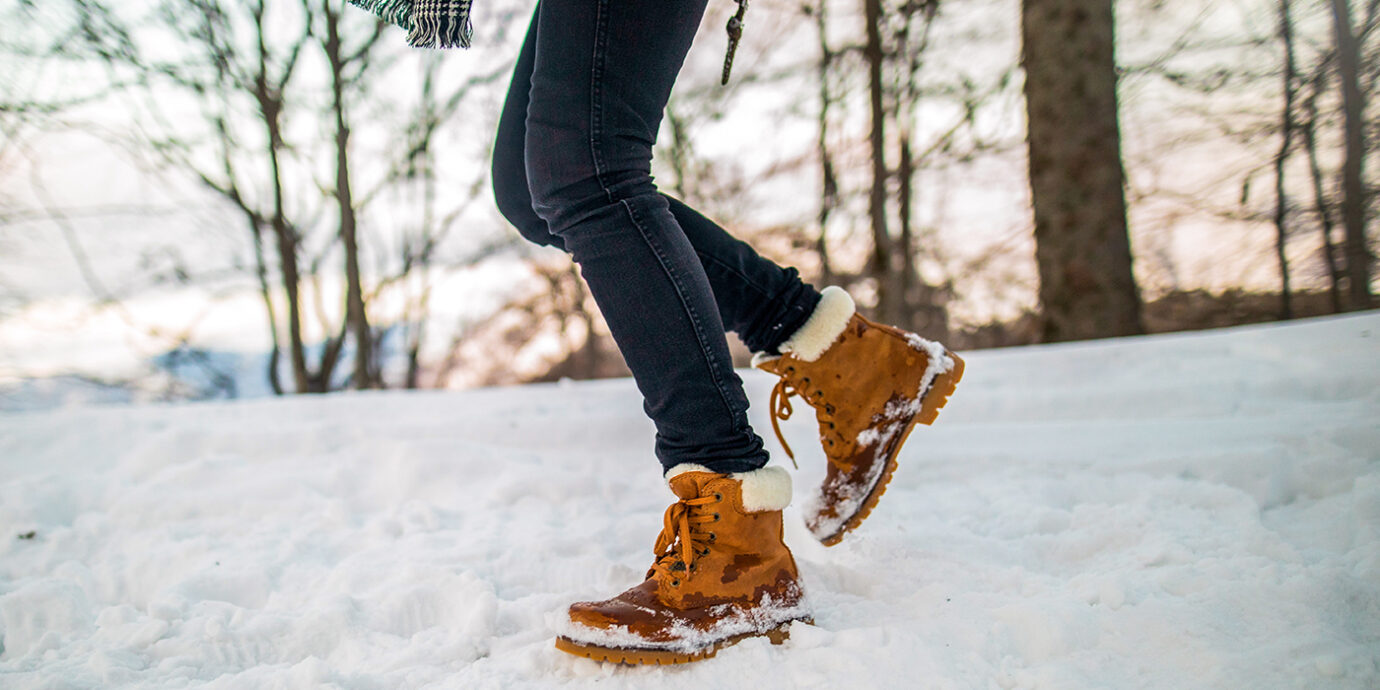 Boots are winter wardrobe essentials that require special care. Always consider the right winter footwear for pairing it up with legwear or socks.
Prefer shearling-lined or fleece-lined styles for more. Assure to find synthetic material or waterproof leather ones to keep your feet warm.
For women, classy high rubber boots can be the best bet. It is easy to pair these with liners and wool socks.
When you are preparing a budget-friendly winter shopping list, adding a jacket can do wonders. It is a closet staple that stays with you throughout the season.
A winter coat is versatile and pairs up with every outfit you try. Besides keeping you warm, it adds to the stylish appearance.
The best way is to buy a dress coat for your winter capsule wardrobe. It is perfect for professional gatherings and helps as party wear.
Tips for Buying Your Winter Shopping List
There are more tips that you can buy after going down on your inventory. Once you have known your winter shopping list. Practice the following,
Start with browsing online on your favorite fashion brands
Mark all winter events and festivals in your calendar for respective shopping sales
Hunt for online shopping deals directly and pick the best ones
Compare prices on one outfit on different shopping platforms and select the best price
Look for clearance deals on different stores as overstock brands will always provide the best discounts
Search for same-day-deals and do not miss the ones friendly for your pocket.
Final Thoughts
You can find numerous ways to prepare a winter shopping list. Nevertheless, preparing the best one is dependent upon smart planning. Cover all your winter essentials in the list before you finalize it.
When covering yourself in winters, make sure to keep warm. By spending less and covering more, you may save money for some winter activities.